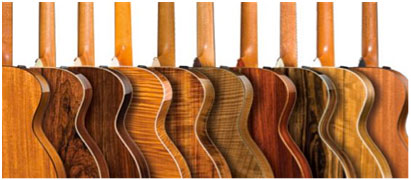 Tonewoods
A short message from the proprietor
The tonewood department is a pet project of mine. I trained and qualified as a musical instrument maker in the 1970's and the pleasure of selecting and handling tonewoods has been an ever present nostalgic itch ever since.

I can currently offer the broadest range of species and the best quality of product that I have ever had. Most of the product range is produced in house to the highest levels of quality and precision. These qualities have been well appreciated and have been exported to many other tonewood dealers worldwide.

I am obliged to buy some products already milled in the country of origin. Over the years I have found trading partners able to produce a consistant level of quality. Where possible I select these products on a piece by piece basis with the knowledge that there is no market in the U.K. for low quality or 'factory' grade wood.

The instrument, shown above right, was built by the proprietor, Robert Smith, in 1979.
Please refer to the Tonewoods catalogue or visit the online shop for up-to-date details and prices.
Shop Online
Visit Timberline's online shop
COVID 19 UPDATE
We are closed to personal callers. Please shop with us over the phone, by email or through our online shop. The online shop at shop.exotichardwoods.co.uk is fully functional for mail order with thousands of items available from stock for immediate dispatch.
We recognise that the process of self-selection is by far the best way to buy and sell wood. Unfortunately it will be some time before we can accept customers into the warehouse again, even without lockdowns, because we have staff and family members that are actively shielding due to pre-existing health conditions.
Follow us on Instagram!
Our Catalogues
View our latest catalogues here.
Join our Mailing List:
Subscribe to our newsletters and recieve updates on new stock, products and industry news.
Click here to sign-up now.
Search Timberline's site: